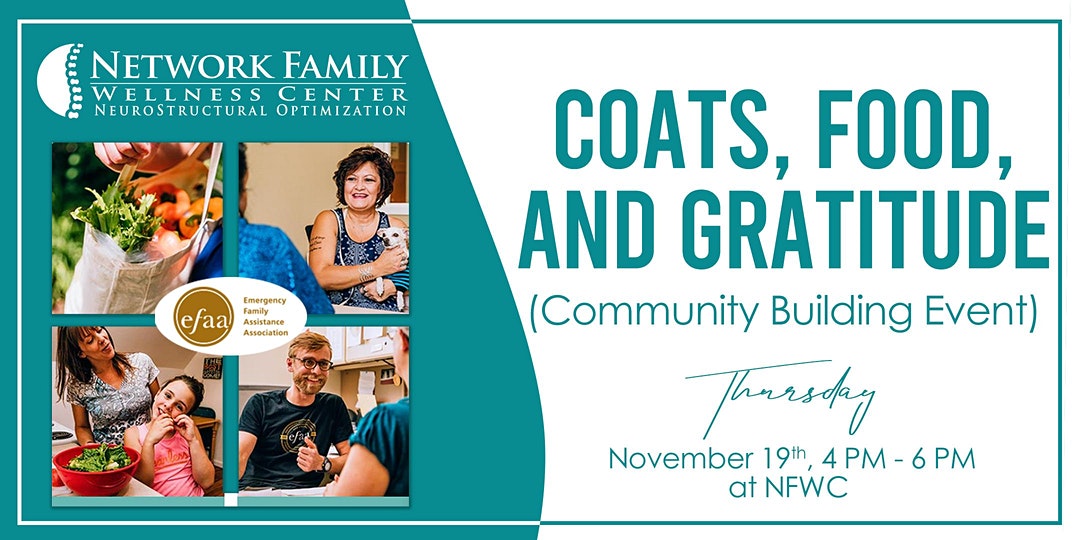 Thu, November 19, 2020
4:00 PM – 6:00 PM MST
Once again this year, you have the opportunity to join Network Family Wellness Center in sharing with those in the Boulder County area who are less fortunate and experiencing challenges due to the COVID situation!
This year, rather than just one charity organization, you can help in two different ways. You can help through the Emergency Family Assistance Association. They need help with their food drive this year. You can get all the information and donate at https://www.efaa.org/food-drive/.
The second way in which you can help is to support Coats for Colorado. They need help with their coat drive this year. You can get all the details at https://coatsforcolorado.org/.
When you bring your food and coat donations to Network Family Wellness Center to give back to families in need of emergency assistance this holiday season, you'll be able to win some cool prizes, give to members of your community in need of your help, and enjoy a special thank you with NFWC as gratitude for your help.
Thank you in advance for your generosity!